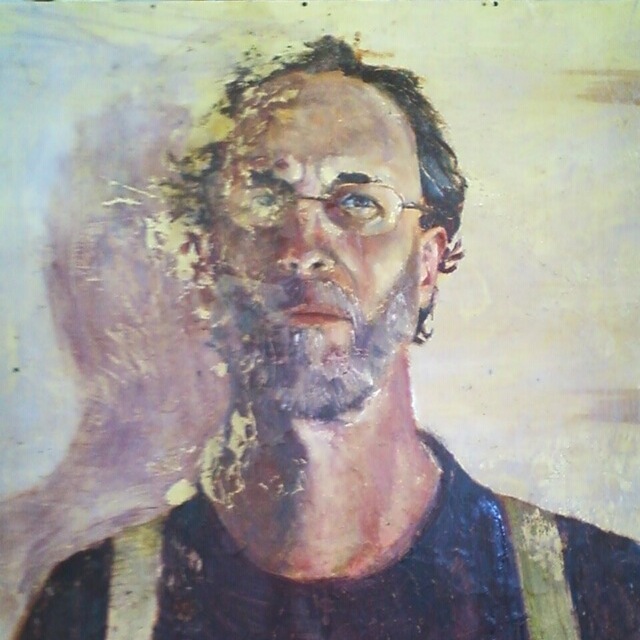 Cover painting by Evan Moring (4'x4′ mixed media on plywood)
This is the pre-release page for JT Moring's 2021 album Only Just a Man, for folks who might need to check it out before it's released. Here you can learn about the project, listen to the songs, and download the whole ball of wax (100MB, zipped 256 kbps mp3s) or the WAV files on Dropbox. There's a description of the album on the public album page and I'll be adding material (lyrics, video, …) as time goes on, so check over there also.
As of September, CDs are in manufacturing; the release will be scheduled for October or November, with availability on all major streaming platforms. Accepting that CD sales are not filling anyone's bank accounts these days, I will offer the discs for free, with the request that recipients drop $10 in the next musician tip jar they see.
Only Just a Man is the title, theme, and approximate credits list for the album. I've written some "liner notes" and a "review" of the album until someone else gets around to doing that.
All songs written, performed, and recorded by JT Moring. Ramona Aunt (of the Prairie Sky band) arranged and performed the female vocals that appear throughout. There are 19 tracks; 13 songs and 6 instrumentals.
Instruments: 6-string guitar, 12-string guitar, nylon string guitar, electric bass guitar, mandolin, 5-string banjo, long neck banjo, mandolin banjo, electric lap steel guitar, Greek bouzouki, penny whistle, harmonicas, acoustic piano, electric organ, autoharp, various percussion.
Full Album (51:44)
---