Neck & Neck was JT Moring and Annie Rettic, playing a mix of original and traditional American and Irish tunes. They both sing and compose. JT keeps the rhythm on guitar and banjo, and adds some harmonica and pennywhistle for seasoning. Annie provides melody and accompaniment on her custom 5-string viola, sometimes supplemented with ukulele or mountain dulcimer.
Irish Beer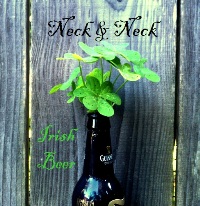 Our celebration of Celtic musical heritage. Fourteen pieces: three instrumentals, three originals, some ballads, and a lot of reminders why Irish music is so popular around the world. All vocals and instruments performed by JT and Annie, including fiddle, guitars, mandolin, banjo, bass, harmonica, penny whistle, and percussion.
Neck & Neck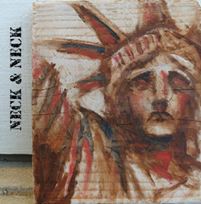 First time making a full album, with Barry Brown on bass and Evan Moring on banjo. Very much rooted in the Americana tradition, it presents 11 originals and two covers, including a unique take on All Along the Watchtower (arranged by Evan, who also contributed the cover art and an instrumental). Now out of print.