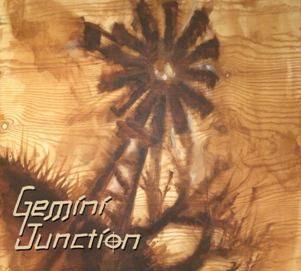 Pre-pandemic, Gemini Junction was JT Moring, Annie Rettic, Richie Strell, Travis Oliver, and Rocky Smolin. We had a good old time playing a mix of acoustic American roots music. Lots of fiddle, harmonica, guitar, banjo, and standup bass, with side helpings of kazoo, spoons, mountain dulcimer, and what-have-you. We played original music, bringing old songs into the new millennium, sometimes kicking and screaming.
Our debut album landed in 2016 with Barry Brown on piano and bass, Jimmy Brennecke on cajon, Ian McCartor whistling ("Watching the World Go by"), and Mike Bradley (bass on "Catfish," slide guitar on "Never Coming Back").
Pallet on the Floor. Our take on the old bluegrass tune.
Come to Find Out. From back when Annie was angry, with lots of bluesy energy. The first of several songs powered by Jimmy Brennecke's percussion.
If It Hadn't Been For Love. Richie nails the Steeldrivers' song.
Watching the World Go By. Featuring excellent piano from Barry Brown and amazing whistling by Ian McCartor.
Strange Sound. Our first song to feature dual kazoos.
Reno. A rollicking Richie original.
Catfish. You know Richie's blues name is Catfish, right?
Gold Watch and Chain. Annie does the Carter family golden oldie. With 3 and 4 part harmonies.
Skillet Good and Greasy. With banjo, spoons, and jug under the harps and fiddle, what's not to like?
Never Coming Back. We got Mike Bradley to come in and play some JJ Cale slide guitar here. Nice!
This Land Is Your Land. We reworked this from the Kids Ride Free album. Because you can't go wrong with Woodie Guthrie.
Backpage of the Troubadour. Our appreciation of the San Diego Troubadour magazine and all its friends. Because "Cover of the Rolling Stone" was taken.